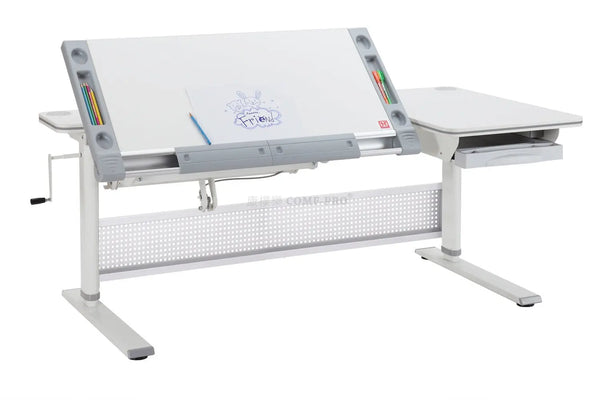 M9 Encore Ergonomic Standing Desk (White | Grey)

【Product Specifications】
 

Model

M9 Encore Standing Desk

Material

E0 table board、Plastic material、Gas cylinder、Medium carbon steel、Powder coating

Table Colour

White

Base Colour

Grey

Size

W-55.1" * D-30.1"

(W-140*D-76.5 cm)

Adjustable Height

22~97.5 cm(+/-2 cm)

Tilting

0-37 degrees

 

 

 

   
【Product Feature】
1. Safety Standard Endorsement
The desktop is made out of special material coated with a layer of laminated seal with SGS loading test, which makes cleaning easier than ever! 
2. Freely Height Adjustment Feature
 Adjust height in one second. This desk can be used without age limit,  the entire desktop can be raised and lowered from 8.7" to 38.4" providing a greater range of personalized customization for your child. It is suitable for whole family using!
3. Freely Tilt Adjustment Design
0-37 degree tiltable desktop provides different angle for reading, writing, and drawing comfortably with proper posture.
4. L-shaped Desktop Design
The main part which has a tilted function and while the rest of it remains as a practical storage surface and working space.
5. Functionality
Stationary trough by two sides, and compartmented drawer.
Aluminum pen tray and movable ruler. 
6. Safety Feature
A 2cm (0.8") safety space is designed to protect kids' fingers.
7. Germany Stabilus Gas Lift
Collocate with Germany famous gas lift brand "STABILUS"
8. Safety Adjustable Leveling Feet
The swivel leveling feet allows the table to remain stable and firm on even or uneven surfaces

컴프프로 super1400 기능 설명 from 컴프이비즈 on Vimeo.
GS Experimental Tests
 The Geprufte Sicherheit or GS mark is the German product safety standard.  A product has to pass the approved product safety testing and laboratory certification to be certified with GS mark.  It indicates the tested product meets the newest European or German standard.  GS mark has become the symbol of quality.
| | |
| --- | --- |
|  Child Using Office Desk and Chair | |
|  Hot images before start |  Hot images after 44 mins reading & writing |
| | |
| --- | --- |
|  Child Using Ergonomic Growing Desk and Chair | |
|  Hot image before start | Hot image after 44 mins reading & writing |
Authority: GEI

Private Pollutant Management Certification System

Authority: German Ministry of Labor

The products pass through the independent organization which has credibility
Authority: SGS

Reduce the released quantity of the formaldehyde made by woodwork

Authority: ISO

Confirm the company can satisfy the customers

Authority: Forest Stewardship Council

Manage to the environment, society.